Allergies are kicking my butt something fierce. On top of all the dust the boys managed to kick up here at work, I kicked up a fair amount in my big cleaning frenzy this weekend at home, and the weather is bouncing back and forth between early fall and true August weather, migraines are pretty much taking me out and roughing me up.
So rather than attempt to impart any deep philosophical wisdom, I will invest my energies into NOT killing my co-worker, who is apparantly bored, and also loud. This is taking a great deal of effort on my part, and has also caused me to religiously chant the ancient sanskrit meditation "heznottabadguy" repeatedly in the hopes it will sooth my nerves. Honestly, not so much.
And so I leave you with various Works In Progress:
Here's one strap of a White Buffalo bag that will be felted. The bag will be HUGE, and probably need a good shave, as a test swatch prooved to be quite fuzzy. The other strap is nearly half done, and then I'll move onto the body, which will be a giant rectangle joined onto the bottom (larger) section of the straps, which a big flap to fold over. If you can't tell, the straps are a dark green, and the main body will be dark green, navy, with lighter blue accents.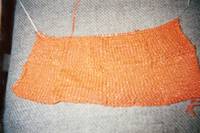 This is the rediculously easy Critter blanket I'm knitting with Tahki Ravello. I don't know if you can see the checkerboard pattern in the pic, but it's there. I bought the yarn on Elann, who called this color something yummy like "Burnt Orange" This is not burnt orange, this is "Great Pumpkin" orange (at least it would be if I named it.) So I'm not a fan of the color, although now that I type that I realize it
perfectly
matches the sweater I'm wearing now. It apparantly just wasn't what I expected. And the yarn is odd - it feels kind of plastic-y on the ball, though it does knit up much softer, and has a pretty cool look to it. It's just not at all what I expected. So I set about making a Critter blanket with it, and find myself very uncommitted. I have another 16 balls of this stuff at home, I think, and if anyone's interested, I'd be glad to sell it... hmmm... Maybe $50 and free shipping? That's $3 something a ball. OBO, how 'bout that? Drop me a line if you're interested... I'll double check how many balls I have and the yardage and all that.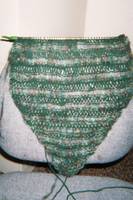 And here we have the shawl that I may finally begin to work on again. This was the reason I figured out that Aslan has an issue with mohair, because everytime I tried to work on this at home, this cat with impeccable manners would grab the ball of mohair and run. The darker green is wool, the multicolor (which actually looks invisible in the photo) is mohair. It's really really beautiful, and very simple to work on (and actually is triangular, it's just curved around the back of my office chair). I was inspired by the mohair at Barbara Gentry's shop Stoney Mountain Fibers and couldn't afford a full shawl worth, so I got the wool to go along, and have been sort of winging it in a double-wrap drop-stitch type pattern. The poor shawl has been living in the trunk of my car since giving up on knitting it when Aslan was withing striking distance, but now that he's got his own blanket, I may give it another shot.

So there we have it. And my head is throbbing, and I'm pooped, so I'm just going to curl up under my desk and rock back and forth in the fetal position for a while, so you go ahead and discuss these few pathetic WIPs amongst yourselves. The sad thing is there are plenty more WIPs at home, taking over my life.