Tuesdays are demolition day around here. The men are throwing things and breaking them and grunting a lot and dust is flying, all with the excuse that it's going into a dumpster anyway. Suffice it to say, not a good day to wake up with the beginnings of a migraine (which I have). We're moving in a few weeks, since the lease on this ever so stylish location is just about up. I can't imagine why, it's as up-to-date as any building I've ever been in. I mean, rumors are it was remodeled as recently as 1974.

This is that couch I slept on when I took my desparate 45 minute nap a few weeks back. I'm rather surprised I was able to sleep with a pattern that loud.

Green is an invigorating color - it reminds us of life and nature. Blue is a relaxing color, and sooths...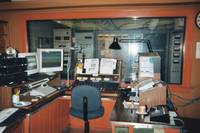 See either of those colors anywhere around? Well, I have a ball of blue and green yarn on my desk, thank you very much. I even brought a plant in, but when I put it outside for the weekend to get some sun (that's right, there aren't any windows in the building that haven't been boarded up) the maintenence crew mowed it. I was very sad.
But on to another thought (hey, it's my blog, I can be random). Yesterday I ran to the grocery store to get some lunch. I was in line, my turn came up, and there was a wallet there. Assuming it to be the wallet of the woman in front of me I called out "Ma'am" and managed to catch her. A woman in the next line over started singing my praises as though I'd jumped into the path of an oncoming train.
"You see, there are some good people left in the world. You will be blessed, child, you will be blessed" and so on...
My first thought was "for
that
?" and my second was "I already am blessed"
It was an interesting little exchange that made me think....