I felt guilty at having two posts in a row be almost entirely non-fiber related (although I do think I mentioned fiber at least once in each, and I certainly played with it in my own time) and almost entirely whining about work, so I figured I'd show you a picture of one of my entries in the
VA FFF
this weekend. This is the bag - pre-felting - that will be entered in the "Felted Items, non-wearable" category. It ended up a lot bigger than I expected (I decided to do that particular stripe pattern shortly after doing the letters and completely disregarded any thought about how much yarn it might take.) and I actually had about a yard left of the blue. It's done out of Lambs Pride with Denim Blue and Blue Blood Red. Once again, no pattern or chart, just me winging it... and no sewing either. Started at one side of the strap and ended up at the bottom (square-ish) without sewing a bit!
Hopefully it looks this good felted. I'll post the end results later this week....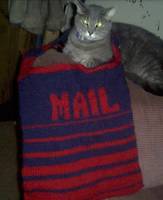 And doesn't Trevor do a fantastic Vanna White impression?
Now go read yesterday's post about my horrible annoying co-worker and pity me. Threats to his well-being are more than appreciated.