Ladies and Gentlemen - the moment you have all waited for!
Remember this?
It's now (drumroll please)
THIS:
Oh. You want to see it on?
Okay... Maestro?
Yeah. I didn't think you'd buy that. But you have to admit Aslan is pretty darn cute.
Okay, seriously, I'll try to get a picture of me wearing it this weekend when GB gets home, but if you think I'm asking anyone else in the neighborhood to put it on their heads - you haven't seen my neighbors.
So Aslan (who like most supermodels needs only be known by one name) is who you get.
And to avoid favoritism...
This is the paper weight that sits on my computer while I work:

And this is how good boys ask to go potty: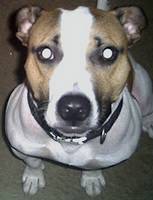 And that's all I got. Still learning about the finer uses of the camera, or you'd have a picture of my nearest neighbor.
A GIGANTIC spider, about an inch, maybe an inch and a half big, a rich red color, spinning a gorgeous web right in my front doorway. I tried to take several pictures, and she started getting really ticked off so I decided to leave her alone. None of the pictures showed up, except for a slight glow where the flash reflected off the web. This morning the web was mostly gone, so I don't know if she got blown off, or if she took my paparazzi-like photography as a personal afront and moved. Anyone know if there are any venomous spiders in Maryland?