Bit of a late start to the blog today - when I arrived at work, the boss was in, and told me that since I've done so much hard work, he was taking me out to lunch. He really is a great guy in general. I've had some really terrible managers, and he is not one of them (and not just cuz he feeds me). I wonder if I'll ever find a job where I like the work, the co-workers, and the boss??? It may be having my own farm is the only way to do that!
----->>>>>
I wanted to show some pictures of the gift afghan I've been working on, which is progressing quickly.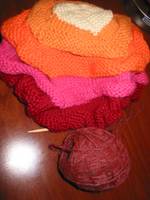 From this picture, it kind of looks like sheets of color lying on top of each other. It's actually squared rings of color in stockinette and reverse stockinette, which you can see a little more clearly here: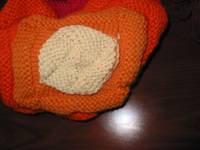 In these shots I was just starting the rust color (which the picture makes look a little more pinkish-reddish, but is a rust that I like alot and matches a skirt I have, so I may end up making a sweater out of it eventually) but I've finished that, and I've moved onto a rich plum color. From there, there's a brighter purple, then I move into a few blues, then greens, and then a thick edging of black. I think it's going to be gorgeous!
I've been thinking.
We've got knitting blogrings for every area of the country, it seems. We've got crochet blogrings, we've got an ROAK blogring...
Is there a blogring for spinners?
And if not, would anyone be interested in joining one? I'll start it up and be "moderator" if others would be interested. I realized that I tend to look to see if people spin when I read their blogs, and I like to know where they get fiber and what they like and experiences they had...
Thoughts?