I felt I needed to offer proof that there is actually an afghan, instead of lumps of yarn.
What you previously saw as this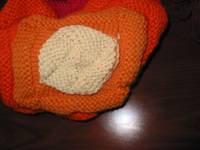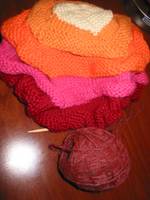 is really far more accurately depicted as this
except that it should turn out much more square looking when it's not wrapped around three circular needles. Plus, it will have much more color to it, as you might recall from this
I suppose the fact that I worked on it last night means I haven't given up hope yet as previously thought. Or it could mean I'm just completely delusional. Tough call. In any event, NO WRIST PAIN! YAY! I changed a few things about my keyboard set up at work, and I think with diligence I can keep the pain at bay.
As I mentioned at some point this week, my Annapolis knitting guild's holiday party is tonight, so I'm bringing a
cheesy-nutty-thing
that I haven't actually tried yet, but the recipe looked interesting. Here's what it looks like, with the lid still sealed tight on the strawberry jam.
Hopefully, they'll all think I'm amazingly brilliant for bringing it. So far I've managed to distract them with my knitting prowess, if we're actually expected to communicate sans fiber, they may discover what a dork I really am. If the cheesy-nutty-thing doesn't work, emergency back up plan A is to scream "look yarn!" and run. Emergency back up plan B is to fake alien possession. I think we're all hoping it won't come to that.
And anyone who wants to buy me tickets to
Rent
next week at the
Hippodrome
is welcome to do so. GB and I saw it about six years ago... Fantastic show...
Tune in around 4pm (Eastern) for David's birthday song. I promised I'd put it up, but I'll have to be alone in the station for that to happen. I may be a glutton for punishment but I really feel
AC
and I have shared
enough
.