Dear Red Bull Advertising Department;
I understand that your advertising campaign is built around the phrase "Red Bull gives you wings." I also understand that it is difficult to come up with various scenarios in which your little cartoon characters can benefit from the use of wings gifted to them by the consumption of Red Bull. I even understand the long running joke of wishing one's mother-in-law ill.
What I do not understand is why you would feel combining those concepts would succeed in winning me over to purchasing your product.
When I see a cartoon man imagining various ways to kill his mother-in-law, and then see him imagine her drinking Red Bull and developing wings, it does not lead me to believe that he has given it to her so that she will happily, and healthily, fly away. It leads me to believe that Red Bull has killed her. This does not inspire me to trust the product, or to want to drink it myself. I am considering buying a case for a co-worker of mine, but that's another story.
I just thought you should know.
Sincerely,
RoseByAny
~~~~~~~~
That said, Houston, we have a pattern!
Okay, it's not really that much more impressive than when you last saw it, but I have gotten about a third of the way up the little seahorses and crabs section. I won't show you a picture again until you can actually see those critters, but it's plugging along. I'm having something funky happen, which I'm just adjusting for (at the same place every pattern row, I have one extra stitch. I'm not sure why that is, as every other pattern repeat works out fine, so I'm just doing an extra decrease in that section. It may kill me in the long run, but I can't for the life of me figure out why all the pattern repeats would be perfect, and the section in the middle would be screwy in the same way everytime.)
And I should also issue a warning for those of you in the Baltimore/Washington Corridor. I washed my car today. This means you can ignore the lovely weather forecasts we've been having for the rest of the week, it will rain, sleet, hail, snow, erupt lava and possibly rain locusts on us because of my now clean car. Consider yourselves warned.
~~~~~~~~~~~~~~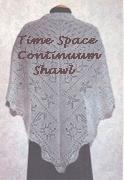 Hours Spent Knitting: 14
Rows Completed (of 222): 27
Estimated Time of Completion: 116.84 hours