Picture-Palooza!!!
Our two gold snails.... and our black one
These guys obviously need to be supervised because we now have about 10 little tiny snails crawling around the tank. Should we be dropping birth control into the water with the fish food each morning?
This little guy is a source of pride for us. He was born in the tank (we didn't even know we were pregnant!) and every morning we would look to see if we could find him. He grew so quickly, and is almost as big as some of our tetras (he's a baby Fancy Mollie) so we no longer worry about him being eaten. He's about 8 months old.
And onto the dying escapade:
Handspun
Manx Loghtan/Angora blend
It's a pretty wheat-y kind of color, but I wanted a dark green.
And so I dyed it in the sink!
I used Rit dye, "Dark Green" and followed instructions...
Does this look "Dark Green" to you???
Here's the not-really-Dark-Green hat -
I cast on at the beginning of Knit Knite and this is what I had at the end!
What looked like this at noon Sunday,
Looked like this as the clock ran out on the Superbowl!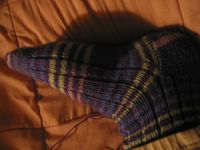 You can't really see it there, but I'm not crazy with the heel. I did a reverse Dutch Heel, which is one that I generally like, but in the self striping yarn I felt it really threw the whole stripey-pattern off... I'll probably end up ripping all the way back and doing an afterthought heel, but I wanted to show my knitting students the difference between self-striping yarn and varigated, so no ripping before Saturday!
(lousy shot on the colors, sorry, it was the best the camera would do...
here
's a better look... for me, that ball is all about the green)
As Picture-Palooza comes to a close, we finish with some shots of one of the loves of my life:
"hmm.... I could play Olive Bowl, or I could play Chase The Tail"
If you look very closely, you can see the tongue hanging out. I'm not sure why it amuses me so much when cats forget to pull their tongues back in, but there you have it. It does.