Yes, I am still enjoying the new camera, thank you!
I met a new friend yesterday - yet another fantastic person that
Knitters Review
has brought into my life. Her name is
Sarah
, she's new at KR, new to knitting, and lives near me. I offered to come by and help her with some knitting basics so she can make herself some hats and things. She fed me a scrumptious lunch (and I took home some leftover soup, which will be lunch for me tomorrow, as I forgot to bring it today) and we talked and laughed and had a great time. So thanks again for a great day, Sarah - can't wait to do it again!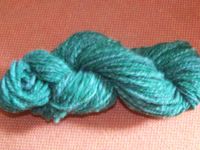 This used to be
this
and this was
this
They've both been done for a while, just hanging up, not skeined, and I didn't take pictures until this weekend. (I'm also doing a little of this
Princess Blue
that Anj gave me.
That's pretty close to the color - it's a rich midnight-y blue which I quite like. I have a pound of it, and four ounces is going to
Jen
, unless she voices any major complaints. She mentioned on KR that she was having a hard time motivating herself to finish a sweater for her brother's birthday, and in addition to my suggestion that she force herself to work on it for at least 15 minutes a day until it was done, I mentioned that I would give her 4 oz of my handspun if and only if she finished it in time. I'm sure it was the character-building advice I gave her, and not the blackmail of free yarn that caused her to finish on time, aren't you? Anyway, it's a merino/silk blend and if there hadn't been extra boys in the house this morning (who gets off for Presidents Day???), I might have finished the 4 oz, and been able to ply tomorrow. As it was it might take me a bit longer.
Here we have something that's a bit of a puzzle to me. Of course, the picture didn't take well, so it'll be tough for you to tell. But there are flecks of copper in the green, and flecks of green in the copper (and the green is far more an earthy deep green than that sort of washed out color there). I picked these up thinking I'd make myself a sort of spirally mobius scarf, and now I can't decided if I really hate the colors together or not. I like each color a great deal. But together... ??? ...and again, the picture isn't a great one, so it'll be tough for you to tell too.
This is about half of my stash. Maybe more than half. Those are thirty gallon tubs, and there's a basket full on top as well, so I think the main point here is that this is not my entire stash. The top tub is all cotton and sock yarn. There's an entire tub of alpaca spinning fiber, then other spinning fiber, and other yarns, many of which are alpaca... There's a large storage coffee table in the living room which is full of yarn (I think that's all specifically for felting) and a million and one bags which have various projects in them. What do you think, do I need more?
To close, some shots of the other fiber producers in my house:
Oscar Tobias, aka Oscar, Ozzie, Oscar-Doodle, and Doodle-bug.
Trevor Miguel (with
the man who calls him "Son"
at left) aka Trevor, Monkey, Spud and the Spudinator
and Aslan Bernard (with his handknit mohair blanket that he loves) aka Aslan, Baby, and BadAss.