Can they send stuff like this through the mail???
When I got home yesterday, a package was sitting on my doorstep. So illicit and seductive was this package, it was actually wrapped in plain brown paper. (gosh this is gonna be really disappointing for anyone looking for actual porn here)
My bountifully beloved benevolant benefactor sent me
this
!!!
She's quite the little vixen, too, since last week I was talking to her about how I wanted this book but wasn't sure it was worth the money. "Oh, don't get it," she says, with this tone that clearly implies "it's pretty but not worth it"... foolishly trusting her, I didn't. See if I ever trust her again (or at least if I ever trust her without running down my mail man to see what he's got for me.)
I immediately fell in love with this sweater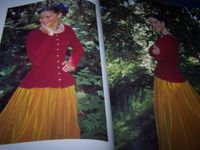 and this one
as just the first(s) of many projects I have to make from this gorgeous book.
And as I was flipping through the pages, this picture just made me burst out laughing.
This is so darn-tootin cute, I actually kept opening to this page when I got angry about something else in the evening (cat gak, stupid commercials, whatever your petty evening worries, they can all be soothed by looking at this picture that makes you laugh out loud.)
I also finished spinning
and plying this - wool/angora/silk, 2 oz of it.
It was another gift a few months ago from the aforementioned benevolant benefactor. She's really waaayyy too good to me, but don't tell her that, okay? I have a pattern tinkling around in my mind for a scarf, but since I am in training for the "worlds most indecisive" Olympics (or maybe I'm not, I can't decide) we'll see if it actually ends up that way.
I did have good company last night. When I was on the couch (knitting) I had this little guy next to me, when I was at the wheel, he hopped up to the back of the couch (on top of my favorite sweater, which got put on the back of the couch when I noticed it has a hole) doing this: