Okay, I am breathing again. It took a few mental breakdowns involving many bad words said in my husband's general direction (he didn't hear them, but I apologized anyway) when he didn't answer his cell phone right away. But I figure it's far better to panic for 48 hours than five weeks. And the nurses I'm dealing with are SO nice and comforting and friendly. I had to go get blood taken this morning for some last minute tests, and had three separate nurses say "it's okay to be scared but you're really going to be just fine" very sweetly. (I found out I'll be getting general anesthesia. My father and brother, both being far more mentally deranged than I - which is saying something - would choose local if given the chance. My father would choose to be awake, and would likely ask for strategically placed mirrors so he could watch. Myself, I was all for them holding a pretty ball of yarn in front of me to distract me and then thwacking me with a baseball bat, but general anesthesia is good too. I don't want to know anything.)
I then wandered into work a little late because of that, sat and worked frantically for a solid hour, then left for a two and a half hour lunch break. Sometimes being supervisor is nice. I rarely take lunch at all, but it turns out a knitting friend was coming into town for a family reunion, so we met for a relaxing trip to the Yarn Garden, five minutes down the road from me (where I got some lovely Kid Merino for a shawl for me, and also Berroco Suede for a gift) and then to lunch. She got to see why I said that they Yarn Garden has a nice selection but isn't the preferred shop at all, when they had something clearly labeled as being one price and then didn't give it to her for that, trying to charge her nearly double because they'd mislabeled it. Both of us said later that if it was their fault they should have sucked it up and changed the label immediately, but the customer is not in fact always right at the Yarn Garden. My guild almost never shops there at all.
I'm feeling better over all, I think in no small part because I've got so much to do before I take a week and a half off that I can't really think about things too much, but also because of the love that's coming in from all corners of the world.
I am most upset at this point in time that I won't be able to wear my wedding or engagement rings - they'll stay at home. But I asked, and I will be able to have knitting needles, and I already know just the shawl I'll make with the Kid Merino I bought today, and three days from now I'll be back at home with my cats by my side feeling extremely groggy.
~~~~~~~~~~~~~~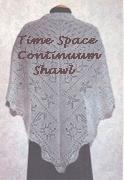 Hours Spent Knitting: 16
Rows Completed (of 222): 32
Estimated Time of Completion: 111 hours