And she knits, too!
Yeah, I've been pretty darn unimpressive in the production department. The shawl is going so slowly, how many times do you want to hear "the shawl is going so slowly"? Pictures of it are truly unimpressive at this point. Not that that's going to stop me from whining about it, but still.
However, I noticed that most of my projects right now are teeny tiny - shawl, socks - so I decided to sit down and do a hat - the hat for
GB
that couldn't be in pretty colors, had to be in Ravens colors,
remember
?
I did find a great gold that worked out beautifully - I e-mailed the lovely owner of
Little Knits
and asked if she had something that would work, she responded quickly, and I ordered just as fast! Because of her lovely service (and lovely yarn) I was able to design and knit this:
On the offhand chance there's a non-knitter reading this who might be more impressive with the outside of the hat than with the inside (silly thing, you) this is what it looks like for real:
I've also been busy trying to make this alpaca
into this yarn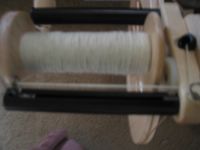 which is coming along, slowly but surely.
I think my plan will be that the weekends are for me - that's when I can do whatever I choose - but during the week I have to focus on the TSC Shawl and David's afghan. That way I won't get too bored with the long term projects, and I won't feel like I'll never finish another knitting project again for the rest of my life. The socks will remain in my purse for movies and someone-else-is-driving knitting.
I had a big knitting class on Saturday - 7 folks. Three moms, three daughters, and a polish woman who knits beautifully but doesn't know how to read an English pattern. I had the uncomfortable experience of having one of the daughters be terribly rude to her mother. It clearly unsettled at least one of the other mothers as well, but a child of my own speaking like that wouldn't have lived long.
The classroom has lots of other classes in it, so there are models and paintings all around the room. The little girl in question (who was between 10 - 12 in age, I would say) was the least interested in the group. She would pause from what she was doing and say things like "that painting is pretty" or other comments about the "decor" of the room. Her mother said quietly "shhh..." and the little girl turned around and said "Don't tell me to shush, I wasn't talking to you so you can't tell me to shush" in a truly nasty tone. She made a few other comments of that type. I tried my best to ignore it, but holy cow. The mother was very nice to me, but I do think it was her fault that her daughter felt it was appropriate to speak to anyone else that way. It was quite shocking.
Anyway, I know the cats get a lot of attention 'round these parts, but look at this handsome head:
Isn't he cute?
~~~~~~~~~~~~~~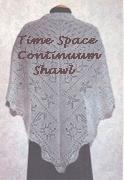 Hours Spent Knitting: 7
Rows Completed (of 222): 10
Estimated Time of Completion: 317.14 hours