(Hey, I warned you)
I don't generally have a hard time making decisions. I tend to go with my heart pretty easily on most things, and usually if I can't make up my mind, it's because the outcome doesn't matter to me. (This characteristic, by the way, is what caused me to be told no less than 78 gazillion times that I was the calmest bride ever when planning my wedding. If it mattered, I already knew what I wanted, and if I didn't know, it was because I honestly didn't care.) When it comes to my career, I feel horribly indecisive, but career obviously matters a great deal, and I'm dreadfully uncomfortable not knowing what steps to take.
So I'll talk to Lauren and keep an open mind... even if I don't think that's where I'm headed right now, I'm not opposed to the path, and maybe she can give me information that will make the path more clear. And in the meantime, I do have a little something brewing which I think IS closer to the direction I want to be pointed, but I won't know more until after March 5. And I won't say more until then!
1. My birth certificate is wrong in two pretty important places (birthdate and name)
2. I have a deep seated adhesive-tape phobia. Seriously. It sets me into a freakish panic. Mock if you must, but don't show me tape.
3. I am sincerely surprised when people seem to like me.
~~~~~~~~~~~~~~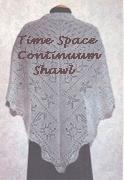 Hours Spent Knitting: 15
Rows Completed (of 222): 30
Estimated Time of Completion: 111 hours