This is what the psychadelic lace looked like Saturday morning.
Why, yes, that is eight needles in. Why, yes, I did actually knit several rounds using nine needles. Why, yes, I am crazy. The lower half of the needles that I wasn't using kept sticking their points into the lace and getting caught, and I finally switched to circular needles sometime Saturday afternoon.
It was at this point that I noticed I had a hippy jellyfish in my house.
Is it easier to tell how far I got using this?
I am a few (maybe three? five?) rows from starting the actual feather and fan section, which I will continue ad nauseum until I run out of yarn. The center flower is over, and I'm still really enjoying it. I find this method of knitting shawls feels like it goes faster for me than the
TSC
shawl seems to (which starts at the longest bottom edge and decreases down each row). It can only be mental, because I know the rows get longer each time this way, but here I've only knit for maybe three hours and I'm a solid 50-55 rows in. That shawl I've knit for fifteen hours and I'm 15 rows in. Feh.
In any event I did spin more of this and finished up the bobbin.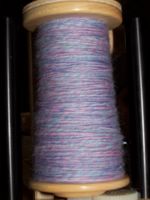 Now that I'm getting the hang of spinning woolen, I'll start the second bobbin tonight. When that's done, I'll ply them and knit them into a lovely blue/pink/lavendar elephant for the very same baby that's getting the psychadelic lace blanket.
And I fought and coddled and struggled and seduced and grumbled and got exactly this much spun on
Loireag
.
The tension is new to me and really tricky to figure out. The yarn keeps coming off the little hooks on her flyer, and the tension is either pretty much off or stops the flyer from spinning... She wants to spin really really fast, or to switch directions repeatedly. She'll take a little more learning from my part. Because even though I realized it was time to give her a little rest after producing that, the truth is, she did produce it. She can make yarn. And she will again. So there.