The first thing
my Christmas bonus gave to me was a letter expressing their thanks
...
The second thing my Christmas bonus gave to me was a
sweater
's worth of
Cascade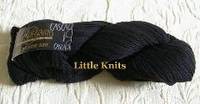 and a letter expressing their thanks...
~~~~~
Can I make a comment? I saw
The Terminal
this weekend. Very cute movie, I though Tom Hanks was excellent... but it got me thinking.
Was there anything good about the Catherine Zeta-Jones character? I mean other than that she looked like Catherine Zeta-Jones? She was having an affair with a married man, she was scatter-brained, she wasn't particularly personable...
I see over and over again these movies that have bland looking guys (who do at least have some redeaming qualities) falling instantly madly head over heels in love with some amazingly beautiful woman of no substance whatsoever. We then see these men do amazing, kind, generous, sweet things for these women, swear their undying love and behave with such nobility... all for the pretty face (well, and a bod like Catherine Zeta-Jones, I'm no idiot, it ain't all about the face)
Is it any wonder that women are so confused right now? Why so many teenagers will do anything to make themselves beautiful and nothing to make themselves cultural and well rounded? All we have to do is be as gorgeous as Angelina Jolie and we get... Billy Bob Thornton? Is that really a fair trade?