In addition to the blizzard, which brought just enough snow to inspire us to try to teach Oscar to become a sled dog (I think he would have been successful if
GB
had tried it on a slope so he could get the idea first...), it was my first official "My Stuff Weekend". That means that most of my weekend was spent doing this:
I still had yarn leftover from
GB
's
fair isle hat
that I did last weekend, and a smidge of the blue that he originally panned and got put into
DSS's mom's Christmas gift
, so I designed and knit this hat for myself:
I also worked on a shawl for myself, that I'm loving loving loving (
baby alpaca yarn
. TO DIE FOR.) but it's also my own design, and I'm still working out some kinks, so I'll wait to show you that until I'm finished, if you don't mind. Because of the shawl, I extended "My Stuff Weekend" to this morning before work, because all I had left on the hat was a some of the decreases at the top, and I couldn't bear leaving the project on the needles all week, just for that.
So here it is, finished and fitting! It's a smidge loose, actually, though it had to be for the repeats in the fair isle, so I'm considering felting it ever so slightly - I like a snug hat. If I do, I'll hand felt it.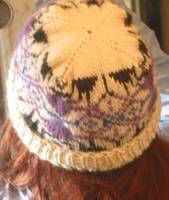 This is what went on in the rest of the house.
GB
took this picture, being as moved by the sheer adorable-ness of it as I was. We had to get real close so you could see the little pink nose and ears, because he's actually sleeping on a blanket that is the exact color as he is. It nearly killed him three or four times this weekend as we narrowly missed sitting on him. But I am happy to say Aslan is alive, well, and rested.
~~~~~~~~~~~~~~
OH! I
almost
forgot! Please go wish
Bess
a very happy day - her little darling married girl darling Saturday... She's been just giddy about this relationship since before the engagement, and having been lucky enough to meet all her darlings, I can very much see why - they are a beautiful couple, inside and out, and girl darling now has some of the best in-laws one could ask for.... A very blessed marriage to you both, Ws!