Oh, but for the grace of cross-dressing cats go I...
I needed a good weekend. I mean, deep in my soul needed.
And I got one!
I was a little nervous about the day, because Saturday night we got sleet and hail, and then it snowed Sunday morning, leaving us with a lovely sheet of ice with snow on top. But Anj and Martha were still up for the day, and I so very much wanted to see them. You know the roads are bad when on exit ramps to and from I-95 drivers are actually going the speed limit (in Baltimore, normally the sign that says "20 mph" is interpretted as "if you don't go fast enough that two wheels actually leave the pavement, 20 crack whores will spit on you")* but for the most part the drive was easy. I didn't even get lost, which is proof that the fates were with me, since I can get (and have gotten) lost on the way home from work.
*Crack Whore reference expressly for Anj's enjoyment
The day with Anj and Martha was like a mini-Christmas-just-for-me. It's such a joy to be able to spend time with them, precious friends that Knitters Review gave me. In addition to spending time with those two beautiful women that I adore, they came bearing gifts. Anj rewarded me for winning her caption contest with a pound of heavenly merino/silk fiber from Halcyon, in "Princess Blue".
Princess Amie approves.
Martha gave me a
smudge stick
(which I had honestly JUST been thinking I might try, but hadn't mentioned that to anyone!) to clear some negative energy from my life, and a crystal (Mikasa) angel candle holder, and also an adorable quilted box.
I wasn't the only one to get gifts this weekend, though. Martha also gave Trevor and Aslan a toy, which will be played with ad nauseum tonight.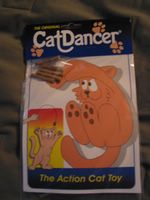 And Oscar got a new bone.
No, that's not Oscar, why do you ask?
Poor Oscar had a rough week. Aslan finally let him at the bone (Oscar is standing about three feet away in that photo, wishing he could play with the bone, but knowing better than to go near Aslan) he had to go out into the cold for a little.
When he came back in, it was to a fresh, full bowl of food, which I thought would make him happy. I went into the other room, but Oscar kept coming to get me and doing a Lassie-like "follow me!" I would go into the kitchen, where Trevor was sitting at the dog bowl, clearly preventing the dog from eating. This happened three times, and I finally gave up and brought the food in to sit at my feet so I could shoo Trevor with minimal effort on my part (it's hard for a girl to get any spinning done when she's protecting her pitbull from cats).